👶 # 1 NEW Selling Baby Product 2021!
How often do you give your children something to eat, but you do not even have time to turn around before all the food is already on the floor?
The magic baby bowl rotates 360 ° and holds the food in the bowl, no matter which direction it is turned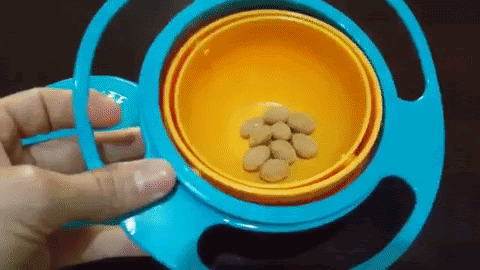 Now babies can keep their food and eat independently, without their mother's help. Free your hands, let the baby enjoy the food, and save yourself from cleaning the floor afterwards. This unique and intuitive product is so brilliantly simple that you can not help but wonder why you have never heard of it before. By rotating in all directions, this dish saves both mother's time and wasted food.
Perfect for playful and annoying children of all ages. The baby bowl is made of safe and non-toxic durable materials. The unique shape ensures that the bowl continuously rotates, keeps the child interested and provides relief for the parents. It makes a meal for a family with children a much more enjoyable and calmer experience. Your child may even be excited about trying new foods.
Perfect for outdoor activities, picnics and indoors. Can be washed in the dishwasher or hand washed. Eating is now faster and easier than ever!